11.01.2022
Podcast: Sync Up! How High-Speed Tech Helps Develop People to Their Full Potential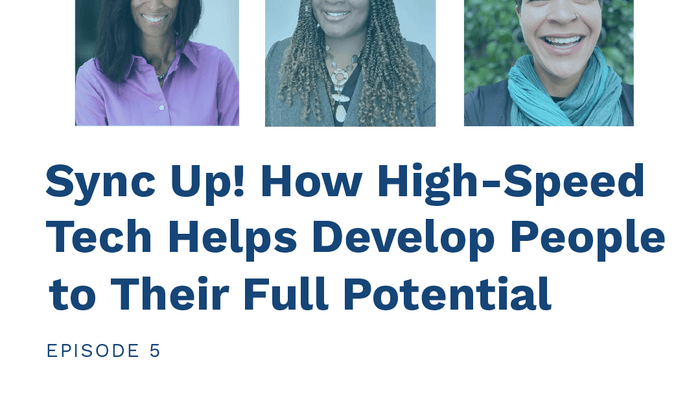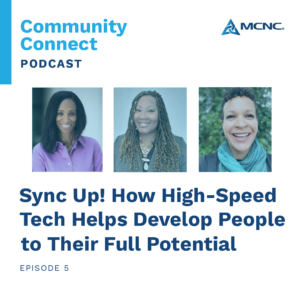 The lack of high-speed internet and technology for many in North Carolina, particularly in rural areas, has deep social and economic consequences. MCNC remains committed to digital equity and inclusion throughout the state — offering recommendations, support, technology, and more.
On the latest episode of our MCNC Community Connect podcast, MCNC President & CEO Tracy Doaks is joined by two experts working to bring digital equity and inclusion to Winston Salem and surrounding Forsyth County: Lakisha Jordan, executive director of WinstonNet, and Layla Garms, the Equity in Education program officer at The Winston-Salem Foundation.
Listen as Tracy, Lakisha, and Layla provide insight into the socio-economic barriers to internet access in Forsyth County, discuss the work being done to bridge the digital divide there, the importance of collaboration through multiple community and thought partners, and explain how funding and support for digital equity programs give voices to communities around the state and the nation.
MCNC stands with those invaluable organizations and is hopeful that through such collaborations and conversations, we can prepare North Carolina for the education and economy of the future.
You can listen to the episode on our website, on Apple or Spotify, or wherever you listen to your favorite podcasts. Archives of previous episodes of MCNC Community Connect are also available. If you have a suggestion for future episodes of MCNC Community Connect, please connect with us!
We hope you enjoy the discussion.
MCNC Community Connect is where leaders and innovators meet regularly to discuss some of today's hottest technology topics and trends. Previous episodes are available here, focusing on topics such as cybersecurity in North Carolina as well as telehealth technologies. Our next episode will be available in late June.
If you have a suggestion for a future MCNC Community Connect podcast, please contact us.