03.16.2021
Durham students to learn about cybersecurity at Students@Work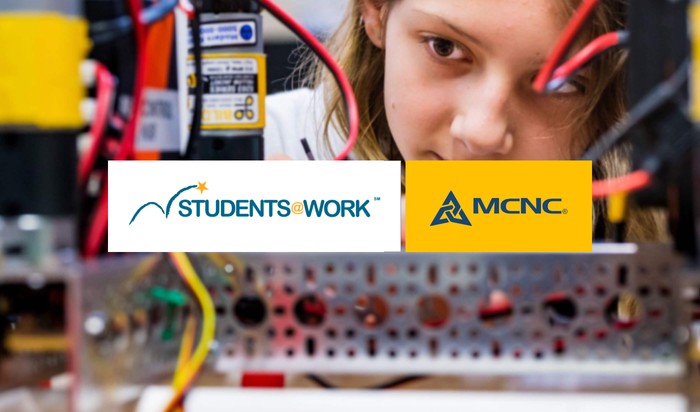 MCNC is pleased to welcome students from Rogers-Herr Middle School on March 19 for Students@Work.
MCNC is proud to once again support Students@Work, the annual job shadowing and mentoring initiative organized by the North Carolina Business Committee for Education (NCBCE) and N.C. Department of Public Instruction. On Friday (March 19), MCNC will virtually welcome students from Rogers-Herr Middle School in Durham as part of this statewide, career-awareness effort.
MCNC owns and operates a powerful broadband network, NCREN. Students@Work is a great opportunity to introduce students to the world of networking technologies and related careers as technology and broadband connectivity play an important role in the everyday lives of North Carolina citizens. This year, we plan to show students the importance of cybersecurity and how to stay safe and secure while online. Students also will leave with a better understanding of the interesting career opportunities available in cybersecurity.
"Students@Work is an important program in our state's work-based learning efforts as it helps middle school students become aware of potential careers and the skills needed to be successful in those careers," said MCNC President and CEO Tracy Doaks. "This is MCNC's ninth year participating in Students@Work, and we remain committed in helping North Carolina students interested in a career in technology achieve their goals."
Formerly just a one-week effort, Students@Work has grown and now spans the entire month of March focusing primarily on students in middle and high school. Approximately 18,000 students and nearly 200 businesses are participating in Students@Work through virtual means this year.
This job-shadowing initiative originated by gubernatorial proclamation with the NCBCE in 2011. To date, more than 300,000 North Carolina students have been positively impacted by the program.
Follow and participate in conversations during Students@Work on social media using #studentsatwork, #ncbce and #NCJobReady. You also may follow directly on Twitter @MCNC, @ncpublicschools, and @ncbce.