03.08.2023
MCNC Community Connect Podcast: Building Digital Freedom One Community At A Time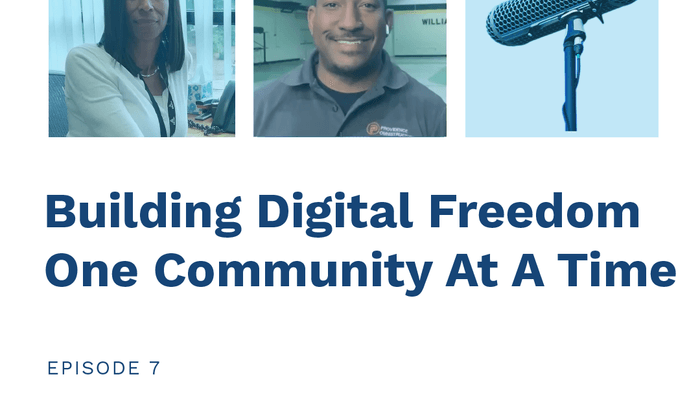 The law defines "digital equity" as the condition in which individuals and communities have the information technology capacity needed for full participation in the society and economy of the United States. Digital equity in North Carolina would have long-lasting benefits for the state.
The lack of high speed Internet and technology for many in North Carolina, particularly in rural areas, has deep social and economic consequences. MCNC remains committed to digital equity throughout the state – offering recommendations, support, technology, and more.
On the latest episode of the MCNC Community Connect podcast, MCNC President and CEO Tracy Doaks is joined by Jeremy Collins, founder and president of Providence Omnistructure.
Listen as Tracy and Jeremy discuss Providence's social enterprise model in Williamston as a way to build an innovation corridor to surrounding areas in Eastern North Carolina. This important work includes boosting broadband access and connectivity, supporting digital literacy and skills, and servicing important community anchor institutions in these communities.
MCNC understands the challenges to Internet access in areas like Williamston, and this collaboration with Providence Omnistructure aims to close the digital divide in this area and in others like it.
You can listen to this episode on our website, on Apple or Spotify, or wherever you listen to your favorite podcasts. Archives of previous episodes of MCNC Community Connect also are available. If you have a suggestion for a future episode of MCNC Community Connect, please connect with us!
We hope you enjoy the discussion.