08.08.2023
HERO Project: Inspiring hope in area codes left behind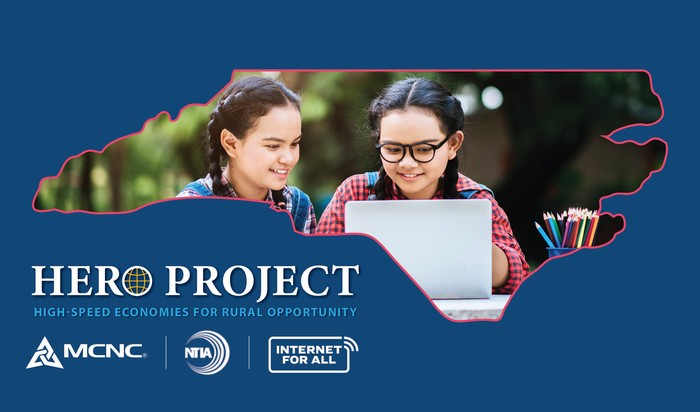 Access to high-speed internet is essential for individuals, communities, and businesses to thrive modern North Carolina. Unfortunately, many rural areas still struggle with inadequate or non-existent broadband. However, there is reason for optimism with MCNC's HERO (High Speed Economies for Rural Opportunities) Project.
Closing the Gap
MCNC, a technology nonprofit with a 40-year track record of successfully expanding infrastructure in North Carolina is leading the charge. Through the HERO Project, MCNC plans to connect and serve approximately 144,000 households that currently have little to no access to broadband services. The primary focus will be on areas where the need is greatest in order to support improvements to broadband access, affordability, and bridge the connectivity divide in key communities in central and southeastern North Carolina.
Empowering Education
Enhancing opportunities for students in these communities is a central objective of the HERO Project. Insufficient access to broadband infrastructure has and still poses obstacles for students in these areas; limiting their ability to utilize resources, virtual learning platforms, and digital educational tools. This project aims to address this issue by empowering teachers and students as well as parents to build a more equitable educational landscape.
Revitalizing Rural North Carolina
The economic growth potential of broadband is well understood by MCNC. 
Through the HERO Project we seek to expand high-speed internet to attract businesses, create job opportunities, and stimulate growth and development. Reliable connectivity will level the playing field for entrepreneurs and small businesses, enabling them to expand their reach into markets and leverage digital technologies for growth. By injecting activity into these area codes, the HERO Project has the potential to revitalize these communities and ensure a more balanced distribution of opportunities across the state.
The HERO Project also aims to improve health care access and outcomes in these communities where patients and providers continue to face gaps daily. The goal is to enhance health care capabilities by establishing a reliable, fast, and secure broadband infrastructure. This advancement will enable consultations, facilitate electronic health records management, telemedicine, and ensure the seamless transfer of critical patient information. Improving access to health care technologies will contribute to better overall health outcomes in these rural communities.
MCNC also recognizes that broadband connectivity extends beyond educational opportunities and health care. The HERO Project also emphasizes the importance of fostering connections and community development. This project will help residents have the opportunity to engage in digital activities most in larger communities take for granted. This increased connectivity will play a vital role in reducing isolation, strengthening community bonds, and promoting overall wellness throughout North Carolina.
The HERO Project signifies hope and has the potential to transform underserved regions in rural North Carolina, paving the way for an inclusive and prosperous future. MCNC's commitment to digital equity and bridging the divide ensures all residents of North Carolina are included in the broadband revolution.