05.25.2022
MCNC podcast: Connecting paths to prosperity through digital equity and inclusion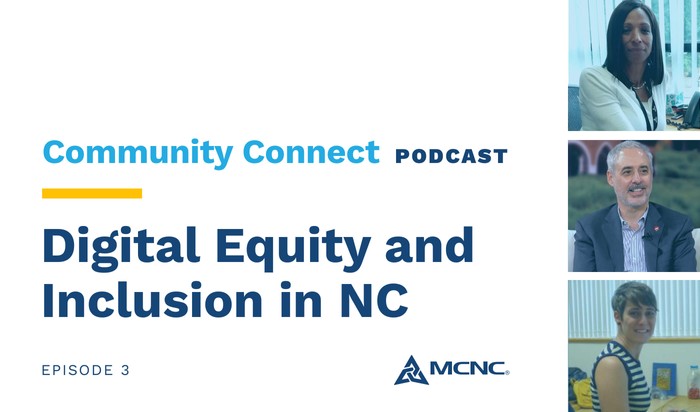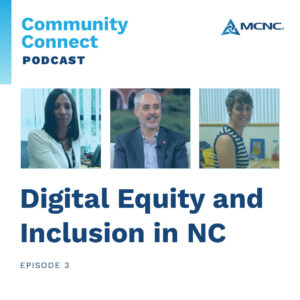 For 40 years MCNC has connected and protected communities with high-speed Internet and networking technologies throughout North Carolina. And during those four decades, MCNC has built-out its world-class network to many unserved and underserved areas of the state all while continuing to stress that the growth of the "digital divide" or "homework gap" would pose significant social and economic challenges.
COVID-19 has shined a bright light on the "haves" and "have nots" in North Carolina, and MCNC continues to ensure North Carolina's future is connected today by deepening engagement in these important digital equity and inclusion efforts. Today, citizens must be able to support remote work, virtual school and day-to-day living, and the pandemic has shown that digital equity and inclusion really are all-encompassing – where citizens not only need access to reliable broadband but also secure access to services, support and skills on how to use it.
In the latest episode of the MCNC Community Connect podcast, MCNC President and CEO Tracy Doaks talks with Dr. Marc Hoit, Vice Chancellor for IT and CIO at NC State University, and Stephanie Jane Edwards, MCNC Senior GIS Analyst and Digital Inclusion Liaison, about the long-lasting economic and social benefits of digital equity and inclusion in North Carolina.
This latest episode is now available on Apple Podcasts, Spotify, or wherever else you listen to your favorites.
MCNC Community Connect is where leaders and innovators meet regularly to discuss some of today's hottest technology topics and trends. Previous episodes are available here, focusing on topics such as cybersecurity in North Carolina as well as telehealth technologies. Our next episode will be available in late June.
If you have a suggestion for a future MCNC Community Connect podcast, please contact us.