10.23.2018
The Role of GIS in Broadband Development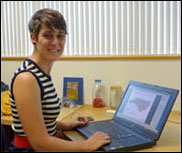 In the work of creating broadband-related opportunities for people of all communities, the question of "Where?" is an important one. The availability of broadband can vary drastically from one location to the next, and the ways in which broadband can be made available to benefit a community depends on many factors like existing infrastructure, terrain, soils, digital literacy, adoption rates, community and local business goals, just to name a few. The magic of GIS is that it answers the question of "Where?", and then combines that answer with the who, what, when, and sometimes why, to give us a more complete picture of the whole broadband landscape.
What is GIS?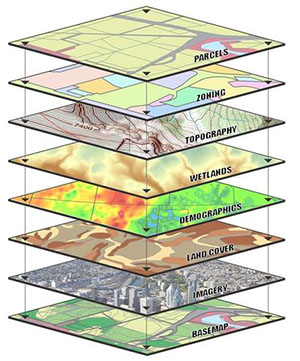 GIS stands for Geographic Information System, and involves the gathering, mapping, and analysis of data that is linked to real-world locations. People often use the term "mapping" to mean GIS, but inside the profession, mapping usually refers specifically to the steps for getting data into a map and is only part of the value GIS brings to a given project.
Once in a map, layers of information can be stacked visually, then studied in unique ways to:
understand more about those layers,
identify patterns that may otherwise be difficult to see,
check for relationships between layers, and
describe and sometimes quantify complex situations.
This part of GIS is called spatial analysis, and it can be applied to a seemingly infinite range of topics. One historical example of spatial analysis dates back to 1854, when physician John Snow (not the one from Game of Thrones) stopped a deadly cholera outbreak by tracking fatally-infected London residents on a paper map, observing that those cases were concentrated around what turned out to be a contaminated water pump on Broad Street. Dr. Snow talked city officials into removing that pump's handle, and people stopped getting sick.
Using GIS to Manage NCREN
At MCNC, GIS is an important tool for two primary purposes: for tracking our existing broadband infrastructure and for exploring or planning new opportunities where MCNC may be able to help North Carolina communities.
In order to be the best steward of its resources, MCNC manages a significant amount of information related to NCREN. There are fiber paths, manholes, splices, access points, network equipment, community anchor sites, and network hubs in our GIS, with details about materials, emergency contacts, ownership, lease agreements, and more. MCNC uses an interactive, browser-based GIS to view, search, and update all this information.
Exploring New Opportunities to Improve Access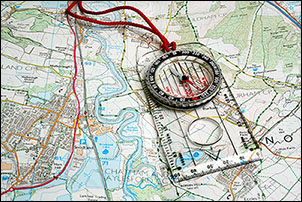 MCNC's existing infrastructure data can be explored with other information to make decisions about new possibilities, and this, for me, is where the real fun begins. GIS professionals and others working to improve broadband access often use data on where broadband is currently reported to be available as a basic starting place. We add data from sources including citizen surveys, crowdsourcing apps, the census bureau, schools, libraries, healthcare organizations, local governments and other infrastructure owners to flesh out the story and make data-driven decisions. GIS combines the best available data from many sources into a single map to give us an idea of broadband needs, challenges, opportunities, and impact in communities throughout the state.
As GIS paints the broadband landscape for the betterment of North Carolina, we find that the picture is always changing. Every community is unique and dynamic, the needs for broadband connectivity are ever-expanding, and technology infrastructure continues to evolve. So we continuously update and improve the underlying data used to collaborate on broadband development. We share maps that visually communicate new strategies and expected outcomes.
As we venture further into the uncharted heights of our digital future, I can recommend with good reason that we always bring along the compass of community-based goals, and a reliable map to inform each new step along the way.