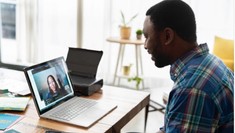 Communications
The infrastructure MCNC provides through NCREN delivers vital communication networks between community anchor institutions (CAIs).
NCREN's communication solutions work with public safety institutions to ensure they communicate swiftly and effectively through high-speed broadband and transport services across the state. This includes connecting public safety institutions to the VIPER (Voice Interoperability Plan for Emergency Responders) system infrastructure.
MCNC's clients at research institutions are also given a strong competitive advantage through NCREN with high-speed internet propelling research in areas of healthcare, clinical trials, science and technology, weather services, and a wide variation of initiatives led by some of the brightest minds on North Carolina's research campuses.
MCNC's NCREN also connects 100% of all 115 public K-12 local education agencies (LEAs) and currently more than 80% of charter schools. This is in large part due to the establishment of the School Connectivity Initiative in 2007, which began the work MCNC continues today in expanding the number of schools with broadband internet access, developing communication networks for rural and under-performing schools, aiding in professional development for technology staff, and developing a scalable model to maintain and enhance network services to all schools in North Carolina.
In addition to K-12, higher education institutions have been valued clients of MCNC since 1980, and NCREN provides a foundation for colleges, universities, and the North Carolina Community College System (NCCCS). NCREN also serves educational cultural institutions such as museums and aquariums.
Broadband is essential for all levels of education, and NCREN is a world-class solution for our education community.