12.02.2021
Day 1: MCNC sets course through 2026
By MCNC Admin
MCNC kicked off its new fiscal year in July by unveiling its new 2021-2026 Strategic Plan. 
Important to every organization is to have a clear vision and mission. This strategic plan first articulates MCNC's core identity, strengthens its purpose, and identifies high-level strategic directions for the organization.
MCNC's Vision 
North Carolina is the most securely connected state in the nation, where everyone has the resources that they need to participate fully in the digital economy.
MCNC's Mission
Our mission is to strengthen North Carolina's future by making secure, high-speed Internet and technology services more accessible to everyone in the state through partnerships, collaboration, and innovative solutions.
MCNC's Strategic Priorities
This strategic direction for 2021-2026 also encompasses five focus areas, which will be evaluated regularly to identify new or shifting areas of focus as our circumstances change.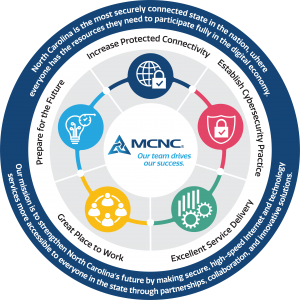 Increased Protected Connectivity

– Expand, innovate, and partner for increased connected protectivity

Establish Cybersecurity Practice

– Build and enhance MCNC's cybersecurity practice

Excellent Service Delivery

– Ensure continued operational excellence in service delivery

Great Place to Work

– Maintain a culture where employees are proud to work here, and others see MCNC as a premier technology employer with an inspiring mission

Prepare for the Future – Grow MCNC's innovation to solve clients' needs to ensure MCNC's financial sustainability
"These priorities reflect the digital transformation we see happening in our industry as well as within the MCNC community," said MCNC President and CEO Tracy Doaks. "We are excited to continue working with our team and our clients to support the innovations that level the playing field and create thriving communities and opportunities for all." 
We look forward to your active involvement in the implementation of this strategic direction for MCNC. Thank you for all your work and continued support!
Return to the 11th Annual 12 Days of Broadband >>>