10.11.2023
HERO Project: The high-speed cure for NC's digital health divide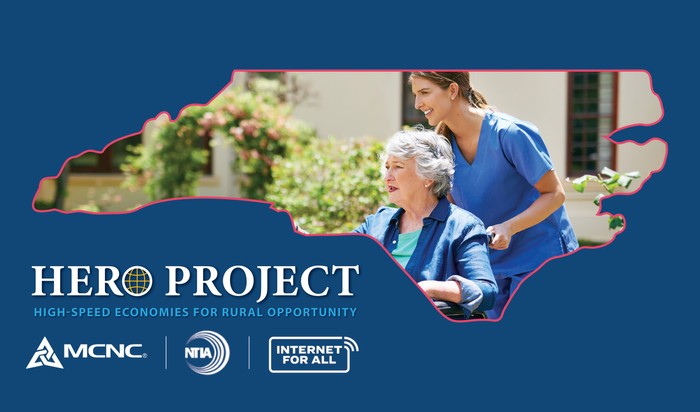 In the heart of the picturesque landscapes of central and southeastern North Carolina, a critical challenge has been quietly unfolding. While urban areas thrive with technological advancements, the lack of robust broadband infrastructure in rural regions like these areas has hindered a vital aspect of everyday life: health care. The digital divide, once a buzzword, has manifested as a stark reality for countless North Carolinians residing in remote communities. However, the HERO (High Speed Economies for Rural Opportunities) Project by MCNC aims to provide a high-speed cure to poor health outcomes in rural North Carolina.
Triaging Rural Challenges
According to the Association of American Medical Colleges, rural patients face a unique combination of factors that makes treating them more complex. Poverty, lack of insurance, remote locations, and the lack of local doctors hit rural communities hard. While some of these factors exist in urban settings, many are being mitigated with advances in telemedicine that simply aren't possible without broadband.
Imagine a patient, living miles away from the nearest medical facility, unable to access telehealth consultations due to slow or non-existent internet connections. Consider the frustration faced by a small-town doctor in transmitting critical patient data to a colleague for review without a stable and/or secure online platform. Think of patients relying on remote monitoring technologies to provide up-to-the-minute data, unable to inform their doctors because their internet is too slow or non-existent. 
The challenges facing our rural neighbors are real, but the HERO project can tackle them head-on by providing the foundation to support life-changing—and life-saving—technologies that patients and medical professionals already are embracing in other parts of the country.
Treatment Plan for Better Health and Care
Technology is changing at the speed of light, and people's ability to access, use, and capitalize on these advances is directly related to their level of connectivity. Those with fast, reliable broadband will thrive while those without it will struggle. A lack of high-speed connectivity, therefore, impedes the delivery of high-quality care and amplifies the isolation between patient and caregiver.
Simply put, expanding broadband leads to better health and care in North Carolina. 
Access to quality health care is a fundamental right, regardless of geographical location. Unfortunately, rural areas have often found themselves at a disadvantage, grappling with limited medical resources and connectivity. In a world increasingly dependent on telemedicine, medical imaging, remote patient monitoring, electronic health records and even prescription verification, the absence of reliable and affordable broadband infrastructure presents a significant barrier to achieving equitable health care.
The North Carolina Telehealth Network Association (NCTNA) works with MCNC to provide broadband to public health clinics and non-profit hospitals throughout the state. NCTNA Chief Executive Officer Tracy Olson explains that modern health care is fundamentally dependent on broadband for its internal operations, information sharing among health care providers, and the practice of telehealth. "From its inception, the NCTNA has partnered with MCNC to provide the best broadband possible for rural health care providers in North Carolina," added Olson. "Progress has been made, but a real digital divide continues to exist, in part because significant regions of North Carolina remain without the broadband infrastructure they need." View NCTNA case study.
After Further Examination …
A ray of hope has emerged with the HERO Project. This ambitious initiative aims to extend high-speed broadband to underserved and unserved areas in rural North Carolina, breathing life into health care services that have fallen behind their urban counterparts. 
The HERO Project seeks to empower rural health care institutions with the tools they need to transform patient care. With broadband at the core, telehealth consultations will become a more stable and consistent reality, enabling patients to connect with medical professionals without arduous journeys. Electronic health records will be shared instantly, leading to better-informed diagnoses and streamlined treatment plans. For medical providers, HERO will create an avenue for continuing education and professional development, promote the communication and collaboration among professionals, and enhance the quality of care offered to patients. 
Diagnoses? A Bright and Connected Future
With the HERO Project providing unparalleled broadband to partners like NCTNA, North Carolina's remote communities are poised for a transformative shift. Reliable internet connectivity is the key to ensuring that stellar health care is no longer dependent on where a patient lives. Indeed, the vision of NCTNA is of "a world where all providers and patients enjoy the same quality of connection and care."
By further investing in broadband infrastructure, MCNC is not only connecting communities but stitching together a healthier and more inclusive future for all North Carolinians — bringing a legacy of access, equity, positive outcomes, and wellbeing for generations to come.
Learn more about how MCNC serves health care institutions in North Carolina.