07.25.2023
MCNC Podcast: HERO Project reinforces our commitment to the betterment of North Carolina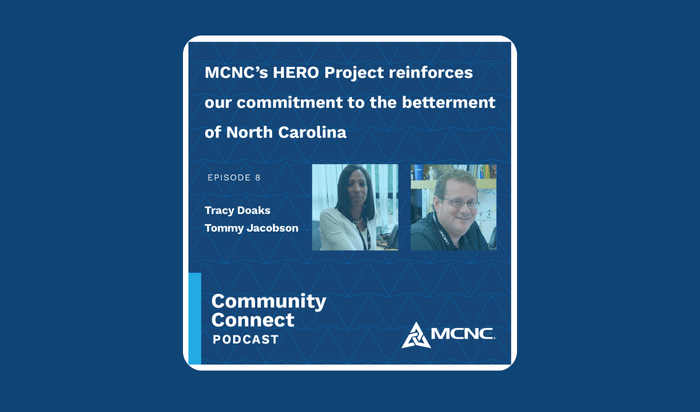 On June 16, MCNC received $11.2 million from the U.S. Department of Commerce's National Telecommunications and Information Administration (NTIA) for the High-speed Economies for Rural Opportunity, or HERO Project. Funded through the federal Internet for All initiative, the HERO Project (coupled with matching funds is estimated at a $19 million total investment for the state) will directly support improvements to broadband access and affordability in central and southeastern North Carolina. 
On today's MCNC Community Connect podcast, MCNC President and CEO Tracy Doaks is joined by MCNC Vice President and Chief Operating Officer Tommy Jacobson to discuss this exciting new project. Listen the latest episode here.
For over 40 years MCNC has connected and protected communities with high-speed Internet and networking technologies throughout North Carolina. And during those four decades, MCNC has built-out its world-class network to many unserved and underserved areas of the state. MCNC's HERO Project is designed to build comprehensive community infrastructure, supporting improvements to broadband access and affordability by constructing 209 miles of new middle-mile fiber in these identified areas, which has some of the highest poverty areas in the state and meet the NTIA definition of economically distressed. This network expansion also traverses areas that likely will never be served without this funding because of the substantial losses commercial providers would sustain to their existing building models.
The lack of high-speed Internet and technology for many in North Carolina, particularly in rural areas, has deep social and economic consequences. Over the next few months, you'll be seeing and hearing a lot about the HERO Project, and this latest podcast helps to paint the bigger picture of what it is we're working on, the significance of it, and how you might be able to get involved.
You can listen to this episode on our website, on Apple or Spotify, or wherever you listen to your favorite podcasts. Archives of previous episodes of MCNC Community Connect also are available. If you have a suggestion for future episode of MCNC Community Connect, please connect with us!
We hope you enjoy the discussion.