10.26.2023
HERO Project: Broadband powers job creation in rural economies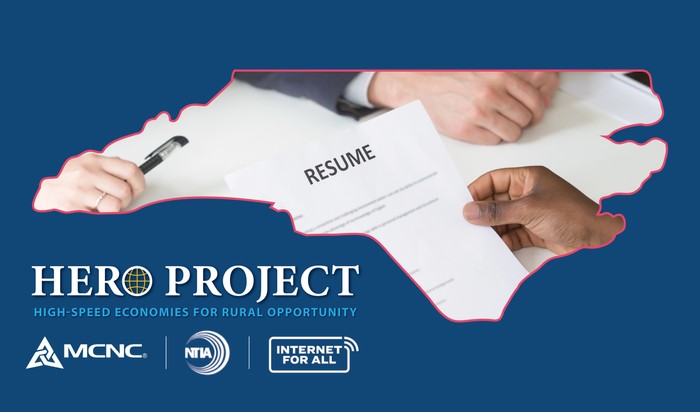 Access to broadband Internet is essential for economic development and job creation in rural areas. It allows businesses to operate more efficiently, reach new customers, and compete in the global marketplace. It also creates new opportunities for remote work, career building and entrepreneurship. In our evolving world, having access to high-speed broadband is no longer a convenience; it has become an essential service. 
Buzzword or Buzzsaw?
The term "digital divide" is now a common buzzword when referring to the inequities of having or not having access to high-speed Internet. However, it was a 1995 report published by the National Telecommunications and Information Association (NTIA), titled Falling Through the Net: A Survey of the 'Have Nots' in Rural and Urban America, where the federal government first used the term and officially cited the imbalance between geographies and demographics due to the lack of broadband.
Almost 30 years later, there are areas of North Carolina that still struggle with job prospects, economic development, and access to education and health care. Unfortunately, this buzzword is more of a buzzsaw in reality as the challenges continue to further be compounded by the divide. A study by the International Regional Science Review further explained that broadband Internet expansion in rural areas has been linked to higher incomes, job and productivity growth, and may be especially important for rural non-employer businesses, particularly those without a storefront, for access to nontraditional market channels.
The absence or inadequate availability of high-speed Internet leaves communities at a disadvantage. Without it, residents in these areas often find themselves excluded from remote work options, online education opportunities, telehealth services, entrepreneurial opportunities, and even basic job searches.
In this context, the digital divide poses a big barrier to progress. Investing in broadband infrastructure not only connects households to the world around them but also opens doors of opportunity for ALL citizens. 
Economic Rainmaker for North Carolina
According to an FCC study, broadband deployment in rural areas can create up to 10 jobs per 100 households. The study also found that broadband can increase wages in rural areas by up to 6 percent. Rural coverage usually lags behind its urban counterparts because rural areas are less densely populated and, therefore, more expensive to serve per household. While those living in metropolitan areas may take connectivity for granted, many North Carolinians in rural communities face significant challenges due to limited broadband access.
The Pew Research Center further explained that low income and elderly populations, people of color, and those who live in rural and Tribal areas disproportionately lack broadband access at home, finding that 43 percent of adults with incomes below $30,000 a year report having a smartphone but no home Internet. In contrast, only 6 percent of those living in households earning $100,000 or more fall into this same category. 
In North Carolina, there are wide disparities when it comes to how connected residents are. Wake, Dare and Orange counties have the lowest percentage of residents without access to the Internet – about one out of every 20 households in those areas don't have it. But, in counties like Northampton, Bertie and Robeson, it's much more common to not have access – more than one out of every three households lack a connection.  
Our HERO Project right now is addressing those gaps found in central and southeastern areas of the state.
Meeting 21st Century Workforce Demands
The workforce landscape is changing rapidly; driven by key trends in technological advancements, demographic changes, and globalization. These changes are having a significant impact on the way people work, all of which broadband touches in some form or fashion. We are seeing a rise in a new remote workforce, growth in the gig (freelance) economy, a focus in diversity and inclusion, and new efforts by workers who are willing to upskill and reskill their careers in order to stay competitive. 
The changing workforce landscape presents both challenges and opportunities
According to the most recent WRAL TechWire Jobs Report, the job openings rate this fall in North Carolina was approximately 6.5 percent –  it's listed as 6.86 percent over the past year – leading the state to an overall rank as the 10th biggest hiring struggle in the country. With high-speed Internet available rural residents can explore job portals, participate in training programs and professional development, and even explore remote work options. Moreover, it allows local businesses to expand their reach and tap into markets, effectively bringing the world closer to previously unserved or underserved areas of North Carolina. With the changing nature of the workforce, people living in rural areas of North Carolina now can access a range of remote job opportunities. This enables them to earn a livelihood while staying in the communities they hold dear. 
Telecommuting also has the potential to rejuvenate towns by retaining individuals and fostering economic growth. Improved broadband access not only helps individuals find jobs but fosters entrepreneurship and small business growth. Over the years the state has witnessed a surge in startups launching entrepreneurs selling goods and services online all of which contribute significantly to the economy. Expanded broadband access has proven beneficial, for businesses as well. They now have the ability to attract customers, utilize tools and technology for efficiency, and explore e-commerce prospects that were previously out of reach. 
Solving Digital Discrimination and Distress
One of the provisions of the federal Infrastructure Investment and Jobs Act is that it requires the FCC to take steps to ensure that all people in the United States benefit from equal access to broadband. The term equal access, in this case, means that consumers should be able to expect to get the same speed, capacity and latency as other customers buying the same product from the same ISP that may be sold elsewhere. This new mandate was labeled as a prohibition against digital discrimination.
The significance of broadband in expanding job prospects within North Carolina cannot be overstated. MCNC remains dedicated to maintaining our work in expanding broadband access to communities in need across North Carolina. By working together with community and business leaders we aim to ensure nobody gets left behind and that the potential for development and success extends to every part of the state.
North Carolina has a plan to be a national leader for high-speed Internet adoption by 2025. As North Carolinians in every corner of the state begin to access, afford and use high-speed Internet, they can take advantage of all these technological resources. This investment will drive the state's economy to new heights.