11.08.2023
HERO Project: Broadband crucial to mission success in military communities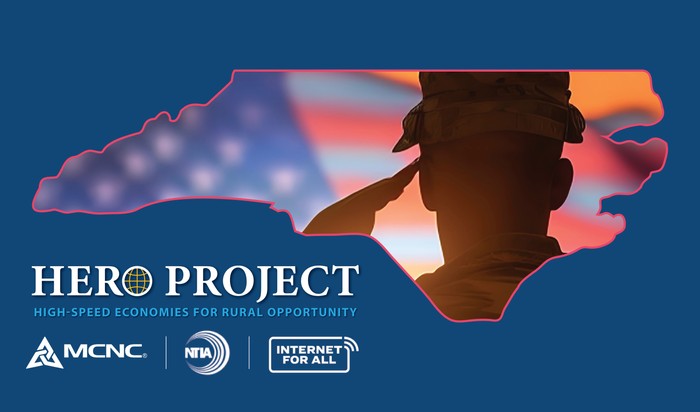 The military presence in North Carolina is the fourth largest in the United States – behind California, Texas and Virginia, respectively. Military and defense industries are the second largest employers in the state, and the military has an economic impact estimated more than $60 billion annually. 
The military bases located in North Carolina are major drivers in our communities, and there are eight total, representing all branches of the armed forces with the exception of the U.S. Navy. MCNC's HERO Project will bring much needed broadband infrastructure and operational benefits to all of the military communities located around Fort Liberty (formerly Fort Bragg), Pope Air Force Base, and Camp Lejeune.
Keeping Military Families Connected
Military families often face the challenge of relocating, making broadband connectivity essential for staying connected with their loved ones. Whether it's through video calls, emails or social media platforms, high speed Internet enables communication that helps alleviate the strain caused by separation. During deployments or assignments these connections also become more crucial for both support and practical matters.
Enabling Education and Training
High-speed Internet provides military personnel and their families with access to a wide range of educational and training resources, both online and through remote learning programs. This can help them to develop new skills and advance their careers. Children from military families frequently experience changes in schools due to their parents' assignments. By having access to broadband infrastructure, they can maintain continuity, allowing them to engage in online learning as well as participate in classes and extracurricular activities. This facilitates better outcomes while also reducing the stress associated with transitioning to new schools.
Transitioning to Careers and Jobs
Transitioning from military to civilian life can be a challenging as military veterans often find themselves entering life and looking for employment. Having access to high-speed Internet is crucial in this process as it helps with job searches, online training, and even remote work possibilities. Broadband connectivity acts as a bridge between service and civilian careers providing veterans with an array of employment opportunities and resources to aid in their career development after active-duty.
Providing Access to Health Care and Telemedicine
For both families and veterans having access to health care services is extremely important. The availability of broadband connectivity enables the use of telehealth services, which makes it easier for personnel and their families to receive the care they need, especially if they are in remote or underserved areas. It also facilitates health services and counseling to address some of the challenges faced by those who have served.
Supporting Veterans
For veterans dealing with emotional trauma broadband infrastructure serves as a lifeline connecting them with support services and valuable resources. It helps veterans by connecting them with support groups, online therapy and resources that can assist in their recovery and transition back to civilian life.
Enhancing Military Operations
Broadband infrastructure plays an essential role in day military operations. High-speed Internet allows the military to gather and analyze intelligence data more efficiently and effectively. This can help to improve situational awareness and support time-sensitive, decision-making at all levels. It is also essential for cyber defense and resilience – enabling the military to detect and respond to cyberattacks more quickly
Strengthening Communities
In today's world having access to reliable Internet has become a necessity in almost every aspect of our lives. However, its significance is particularly evident in military communities as a means of supporting families, veterans and the armed forces. Broadband infrastructure not only helps military families and veterans but also enhances the overall strength of military communities. It improves access to community resources, job opportunities and educational institutions fostering growth and stability in these areas.
Facing Challenges Together
While high-speed internet offers many benefits for military communities, there are also some challenges associated with its deployment and use. One challenge is the cost of providing access to remote and underserved areas. Another is ensuring the security and integrity of military networks and data. Despite these challenges, the role of high-speed Internet in our military communities is likely to continue to growing in the coming years, and we aim to ensure and prioritize equal access in these communities as a way of honoring the service and sacrifices made by members of our military and their families.