11.21.2023
HERO Project: Broadband feeds high-speed needs of modern farming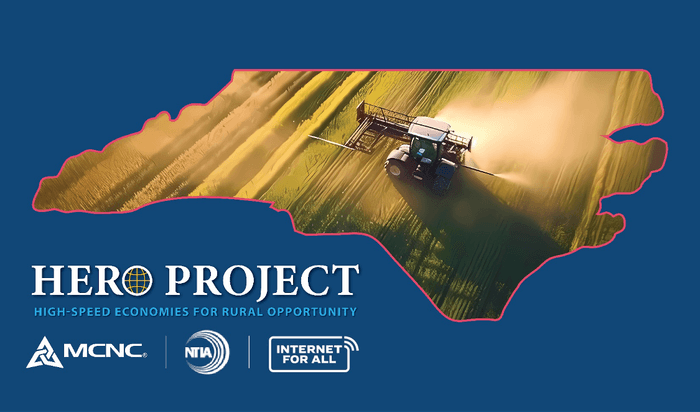 The impact of high-speed Internet has revolutionized so many sectors, including agriculture where broadband-enabled technologies are intertwined more than ever in both food productivity and global economics. Connectivity for modern farming and agricultural technology (AgTech) supports everything from efficient crops and harvesting to blockchain logistics. It also plays a decisive role in livestock and dairy production.
There are approximately 45,000 farms in North Carolina, according to the U.S. Department of Agriculture (USDA). As technology advances and prices decrease, AgTech adoption is anticipated to increase – especially in rural areas that traditionally have been unserved or underserved. MCNC's HERO Project looks to enable today's farmers in North Carolina to fully tap into the potential offered by this transformative technology.
National Landscape
The role of agriculture, food and related industries in the U.S. economy represents approximately 5.2 percent on the country's overall GDP. Domestic farms alone contribute more than $136 billion, which represents merely the foundation of the greater economic activity generated out of dependent sectors like food and beverage manufacturers, retailers, and the food service industry.
The USDA recently released the 2023 Technology Use: Farm Computer Usage and Ownership Report. According to the report, 85 percent of farms reported having access to the Internet nationally. In 2023, 32 percent of farms used the Internet to purchase agricultural materials and services, which was an increase of 3 percent from 2021. Additionally, 23 percent of farms used the Internet to market their activities, which was an increase of 2 percent from 2021. In 2023, 51 percent of Internet-connected farms utilized a broadband connection while 75 percent of Internet-connected farms had access through a cellular data plan. Additionally, 69 percent of farms had a desktop or laptop computer while 82 percent of farms had or used a smartphone.
North Carolina Landscape
In North Carolina, farms with Internet access is estimated at 87 percent this year. However, only 32 percent of those farms used the Internet to conduct agricultural activities. The USDA reports that 6 percent still use a dial-up connection to conduct business, 60 percent use broadband, 73 percent use cellular data plans, and 19 percent use a satellite connection. Farmers who own or use a desktop or laptop computer for their work rose two percentages points from 69 to 71 percent between 2021 and 2023. Ninety percent use or own a smart phone, and 43 percent own or use a tablet or some other portable wireless device.
Large and Small
The need in rural areas to support AgTech is not contingent to farm size. Farms, whether large or small, are located primarily in rural regions, and large farms are not necessarily composed of contiguous acres. Rather, large farms often include operations that manage dispersed acreage across a range of many miles. This, too, increases the imperative for ubiquitous broadband deployment in rural agricultural regions. In sum, trends toward larger farms and data indicating higher AgTech adoption in larger farms further demonstrates the need for rural broadband deployments to support increasing AgTech needs.
Precision Agriculture
Precision agriculture uses technology to manage crops and livestock. In 2021, 23 percent used this in North Carolina. This year, it is up 27 percent. Precision agriculture optimizes important farming aspects such as irrigation, fertilization, pest control, crop monitoring and more. With high-speed broadband, farmers are able to gain real-time access to weather data, GPS-guided machinery and drones, and other sensing technologies. These tools enable them to make important decisions based on data analysis.
New Markets and Diversification
Broadband and high-speed connectivity has opened up markets and opportunities for farmers. Through e-commerce and online marketplaces, farmers are now able to reach a customer base previously unimaginable. Additionally, they can explore diversification by accessing information on crops, livestock breeds, agricultural techniques, and more. This has become crucial in boosting the stability of rural communities.
Informed and Connected
MCNC has heard on numerous occasions from our agriculture community that having access to the Internet means having access to a wealth of knowledge. Farmers now can utilize resources, tutorials, and expert advice. They can troubleshoot equipment issues, learn about cutting-edge farming practices and techniques, or explore all the amazing agricultural innovations that are happening all the time. Thanks to broadband, they will be able to stay connected with experts and be experts themselves for fellow farmers around the world.
Logistics and Supply Chain Management
Broadband empowers farmers to streamline supply chain processes from production through distribution. They can efficiently manage and track inventory and shipments in real-time and even communicate instantly with suppliers and buyers. This streamlining enhances efficiency, improves outcomes, and reduces waste.
Weather Forecasting and Disaster Preparedness
Rural communities often bear the brunt of disasters such as floods, droughts, and storms. With the availability of broadband, farmers can now receive timely weather forecasts to make informed decisions on how to best protect their crops and livestock. Moreover, they can easily access resources related to disaster preparedness and recovery, which can be an important lifeline during times of emergency. 
Innovation and Entrepreneurship
Broadband plays a vital role in fostering innovation and entrepreneurship for modern farming. By having access to high-speed Internet, farmers are able to explore business opportunities such as agritourism ventures, farming cooperatives, or value-added processing operations. This diversification of enterprises not only strengthens economies but also ensures a stable income for farmers. In terms of sustainability, broadband promotes the adoption of farming practices. By connecting with other organizations farmers gain information on sustainable agriculture techniques, soil conservation methods and biodiversity preservation. This empowers rural communities to become stewards of the land while contributing to an environment for everyone.
Rural Health Care and Quality of Life
Although not directly linked to agriculture, broadband has an impact on health care. The presence of broadband infrastructure enables telemedicine services that allow rural communities to reach health care professionals, doctors, and specialists without traveling distances. When farmers are healthy, they become more productive leading to communities that can overcome challenges. And, of course vets for animals.
Economics and the Future
Broadband demand has grown significantly over the past 30 years as devices and applications proliferate in volume, sophistication and complexity. Accordingly, the demand for broadband connectivity on farms should be anticipated to grow proportionate to the demand across other industries. Current macroeconomic conditions, a consumer focus on sustainability, regulations, and changing business models could further drive the adoption of AgTech products by farmers. The introduction of broadband infrastructure can bring about a much-welcomed change in the landscape by connecting farmers and rural communities to the digital world. 
The opportunities broadband presents are limitless for agricultural communities throughout North Carolina. As we move forward into the future it is important to continue investing in broadband connectivity in these areas so that rural farmers can fully reap the benefits in an industry that supports the entire world as we know it.