11.17.2023
MCNC Community Day opens 'A New Wave of Innovation'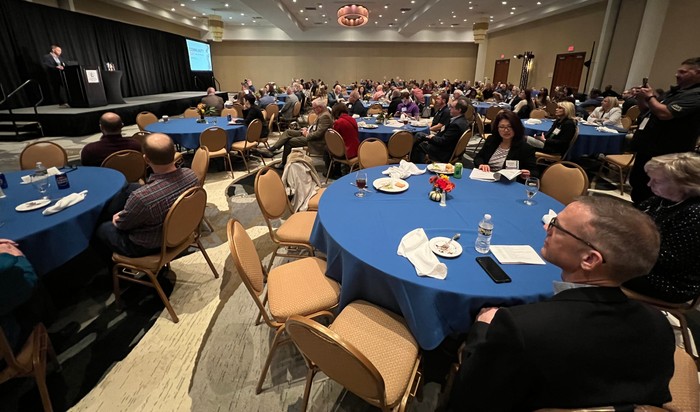 Networking nonprofit recognizes community leaders and shows how North Carolina is on the cusp of a technology revolution by expanding broadband
DURHAM, N.C. (Nov. 16, 2023) – MCNC hosted nearly 250 technology, government and business leaders this week for its signature event – MCNC Community Day – at the Durham Convention Center.
This year's event theme, A New Wave of Innovation, celebrated MCNC's past successes, current contributions, and the influential future it has planned for connecting North Carolina. The agenda featured keynotes and panel discussions covering a wide variety of technology topics and trends such as cybersecurity, esports, generative AI, women in tech, quantum computing, and much more technology all things innovations.
"Broadband and emerging technologies are transforming every aspect of our lives – from the way we work, to the way we learn, the way we live, and even how we interact with each other," said MCNC President and CEO Tracy Doaks. "Over the past two days, we were able to show how MCNC has connected and empowered North Carolina communities to do amazing things over the past four decades and that we're just getting started."
Attendees were offered exclusive networking opportunities with a wide range of professionals from within and outside of North Carolina who share a focus on how advanced networking technologies positively impact students, provide innovative capacity to researchers, and increase North Carolina's global competitiveness.
MCNC was able to highlight its new High-speed Economies for Rural Opportunity, or HERO Project, which is currently supporting improvements to broadband access and affordability across central and southeastern North Carolina. MCNC also announced their annual MCNC Community Awards, recognizing individuals and stakeholders for their outstanding work, dedication and understanding of how technology and broadband can grow educational opportunity, local economies and innovation for all citizens in North Carolina.
J. Eric Boyette, retired Secretary of N.C. Department of Information Technology and NCDOT now serving as Specialist Leader for Government and Public Services at Deloitte, LLP, was acknowledged with the 2023 Robyn Render Endeavor Award, celebrating distinguished service and commitment to the mission of MCNC.
Dennis Kekas, Senior Advisor/Professor of Practice at NC State University, and member of the MCNC Board of Directors, received the 2023 Innovation Award, which highlights, promotes and celebrates excellence in innovation and collaborative technology-based projects and initiatives that positively impact the MCNC Community. This is only the second time this award has been given.
Annette Taylor, Director of the Office of Digital Equity and Literacy at the N.C. Department of Information Technology, was honored with the 2023 Empower Award, recognizing her as a new member of the MCNC Community who has made an immediate impact.
And, finally, new this year was the MCNC Community Champion Award, which was given to the North Carolina Local Government Information Systems Association (NCLGISA) IT Strike Team, a volunteer group that provides their time and talents to help out in times of need. The IT Strike Team partners with N.C. Emergency Management to provide technology support in times of disaster but is also available to any NCLGISA member who might need more resources to address an emergency. Randy Cress, Assistant County Manager and CIO for Rowan County as well as current President of NGLGISA and IT Strike Team Lead, and Scott Clark, IT Director for Town of Fuquay-Varina and IT Strike Team Chair, accepted the inaugural award.
MCNC Community Day was made possible by generous sponsors including – Zettabyte: Presidio and Cisco; Terabyte: AT&T; Gigabyte: Crowdstrike/Zscaler, North Carolina Telehealth Network Association (NCTNA), Okta, and RSM; Megabyte: Akamai Technologies, Financial Directions, LCG Associates, Rivers Agency, and Slalom/AWS; Bytes: Corning, ECC Technologies, Fountainworks, Sentinel Risk Advisors, and Truist.
Editorial Contacts
Jim Nester, MCNC Senior Director of Client Engagement & Marketing: (919) 248.1927 or jnester@mcnc.org
Noah Garrett, NGC Communications, on behalf of MCNC: (252) 423.1277 or press@mcnc.org