12.11.2018
MCNC celebrates 2018 with awards and accolades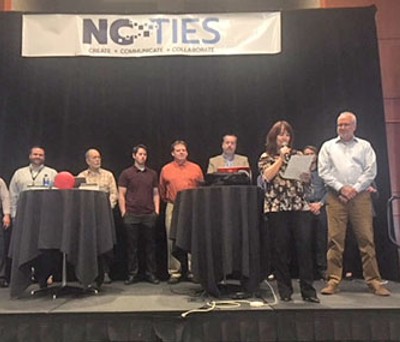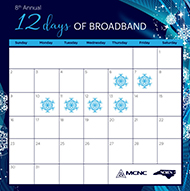 Technology and broadband connectivity play a powerful role in the everyday lives of North Carolina citizens. MCNC continues to transform into an organization that provides not just high-speed, broadband networking on NCREN but other value-added services and technology solutions for many key community anchor institutions across the state. One of the ways MCNC accomplishes its mission is by providing an innovative work environment for staff, demonstrating a commitment to each employee's well-being as well as professional development.
2018 Making IT Happen Award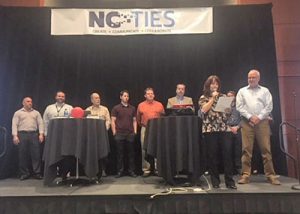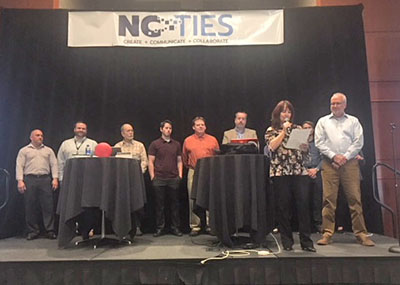 In March, MCNC Client Network Engineers (CNE) were presented with the "Making IT Happen" Award for their contributions in integrating technology in education. Watch acceptance video.
The CNE team received this coveted award for making unique contributions to advancing the use of digital technology to inspire learning and teaching in North Carolina. It was presented to the team on Friday, March 2 at the North Carolina Technology in Education Society (NCTIES) annual event in Raleigh.
Making IT Happen honors outstanding educators and leaders who demonstrate extraordinary commitment, leadership, courage, and persistence in improving digital learning opportunities for students. The CNE Team at MCNC works directly with schools to help ensure they have all the essential technological tools for their classrooms. 
"MCNC Client Network Engineers provide a unique service for the North Carolina education community," said MCNC President and CEO Jean Davis. "This award recognizes the team's tireless efforts to collaborate with state education agencies and public schools to ensure school networks can support the transition to digital learning and effectively leverage NCREN broadband services."
Developed out of the N.C. School Connectivity Initiative, the CNE team provides network consulting services in North Carolina to K-12 schools in technical areas including network design, configuration and operations, wireless network configuration and operations, security, operations, administration and management, and Google Apps for Education. CNE also offers training and professional development opportunities for community college and K-12 customers several times a year.
The CNE Team is led by Dave Furiness, senior director of network consulting and K-12 advocate. Others include Sterling Brockwell, Diane Dunlap, Gonz Guzman, Brian Martin Christopher Rose, Bradley Stevens, and John Warf - who individually received the "Making IT Happen" award in 2017.
2018 Internet2 Inclusivity Award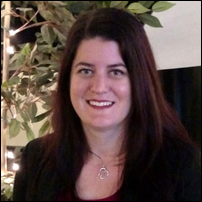 In May, East Carolina University Network Analyst Lisa Barry was one of four recipients of the 2018 Internet2 Inclusivity Award.
The award was presented at the I2 Global Summit in San Diego.
Barry serves as a network analyst within the information technology and computing services department for ECU. She started with ECU in 2015 as a network engineer and quickly demonstrated her capacity for advanced networking challenges. Lisa's current responsibilities include administration of enterprise-level network services including firewalls, VPN systems, intrusion detection and prevention systems. Lisa also maintains identity services, access control systems and load balancing for backend servers. She is dedicated to providing excellent user experiences while maintaining a high standard of network security and performance.
The Internet2 Inclusivity Award is a scholarship established in 2014 by Internet2 as part of a larger community-led effort to improve diversity and inclusion in the information technology field within research and education. This scholarship provides recipients the opportunity to engage in discussions around the latest applied innovations and best-practices for their campuses as well as access to mentors and a network of women IT and technology professionals.
"We all have a responsibility as individuals and as a community to be forces for positive change when it comes to diversity and inclusion," said Ana Hunsinger, vice president of community engagement at Internet2. "Congratulations to all of our award recipients and fellows, and a special thank you to our members who are also supporting the meaningful participation of underrepresented groups in the information technology field from both the national and global research and education communities."
Public Sector CIO of the Year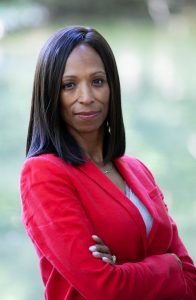 In the fall, Deputy State Chief Information Officer and Chief Services Officer Tracy Doaks (as well as MCNC Advisory Council Vice Chair) was named Public Sector CIO of the Year by the NC Technology Association for the organization's annual NC Tech Awards. She is one of eight people recognized for their accomplishments and impact on the tech sector in North Carolina.
In addition to being Deputy State CIO, she leads the Service Delivery Division for NCDIT, focusing on providing services to state agencies, local governments, and universities. Since joining NCDIT in 2015, she has introduced service-based costing and service maturity improvements, leading implementations that resulted in more than $25 million in savings. She also moved the state into technology-forward services such as cloud management, multi-factor authentication for public safety users, and soon-to-be released chatbot technology for the service desk.
"The recognition from NC TECH is a signal that we are doing some outstanding work at the State of North Carolina," Doaks said. "As a leader, coach and mentor, this nod is also a symbol to others climbing the IT ladder of what is possible with a supportive IT community and that they can do 'it', too. I always want to leave an organization better than it was for me being there, and this award is motivation to continue that journey."
At the time, Doaks was vice chair of the MCNC Advisory Council, or MAC. The MAC participates in the development of strategic initiatives and technology direction for MCNC and advises the MCNC Board of Directors regularly on status, opportunities, and issues.