03.09.2018
CNE Team is Making IT Happen in North Carolina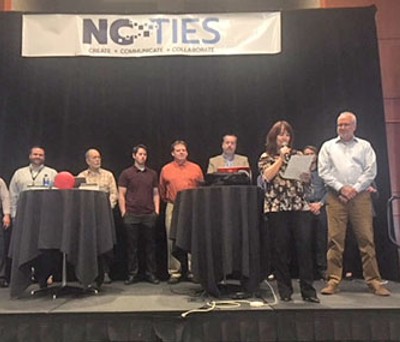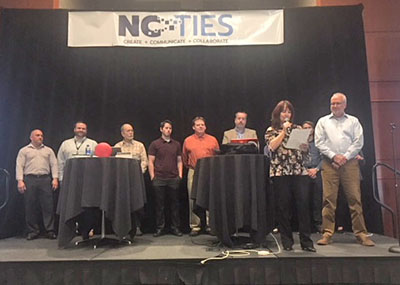 MCNC Client Network Engineers (CNE) have received the "Making IT Happen" Award for making unique contributions to advancing the use of digital technology to inspire learning and teaching in North Carolina.
This coveted award was presented on Friday, March 2 at the North Carolina Technology in Education Society (NCTIES) annual event in Raleigh – #NCTIES18.
Making IT Happen honors outstanding educators and leaders who demonstrate extraordinary commitment, leadership, courage, and persistence in improving digital learning opportunities for students. The CNE consulting team at MCNC works directly with schools to help ensure they have all the essential technological tools for their classrooms. Discover more about CNE.
All 115 K-12 public school districts were connected to the North Carolina Research and Education Network (NCREN) in 2009 through the N.C. School Connectivity Initiative; more than 130 charter schools also are now receiving connectivity services from MCNC. MCNC provides connectivity and engineering services under contracts with N.C. Office of Information Technology Services and the N.C. Department of Public Instruction.
Developed out of the N.C. School Connectivity Initiative, the CNE team provides network consulting services in North Carolina to K-12 schools in technical areas including network design, configuration and operations, wireless network configuration and operations, security, operations, administration and management, and Google Apps for Education. CNE also offers training and professional development opportunities for community college and K-12 customers several times a year.>
"MCNC Client Network Engineers provide a unique service for the North Carolina education community," said Jean Davis, MCNC President and CEO. "This award recognizes the team's tireless efforts to collaborate with state education agencies and public schools to ensure school networks can support the transition to digital learning and effectively leverage NCREN broadband services."
MCNC Client Network Engineers currently include Sterling Brockwell, Robert Camp, Diane Dunlap, Gonz Guzman, Brian Martin, Kevin Moderow, Christopher Rose, Bradley Stevens, and John Warf. CNE is led by Dave Furiness, senior director of network consulting and K-12 advocate.
MCNC Senior Client Network Engineer John Warf individually received the Making IT Happen award in 2017.