NCREN Community Day 2019
11/13/19 - 11/14/19
Durham Convention Center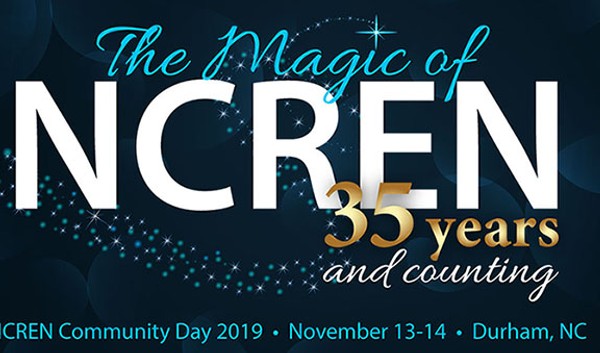 Dear Colleagues and Friends,
We are thrilled to welcome you to the landing page for NCREN Community Day 2019! From this space, you can find all the program details needed to plan your time in Durham as we celebrate 35 years of service and support to the community!
Since the last convened at Community Day 2016 we hosted events such as open houses and summer cook-outs. We hope you were able to join us on one of those occasions.
This year we return with our signature event, NCREN Community Day, Wednesday and Thursday, Nov. 13-14, 2019 and you are cordially invited to join us at the Durham Convention Center in the rich and diverse downtown Durham.
Like years past, we are excited to make new acquaintances, see old friends, learn and hear about emerging broadband topics as well as what peers are accomplishing and how MCNC adds that special touch with "The Magic of NCREN."
Over the 35 years, MCNC has witnessed extraordinary growth and significant change both in the community we serve and the services we provide. And truly, it's felt magical. That magic feeling in never more evident than during NCREN Community Day when so many gather in a festive, homecoming atmosphere to share with and learn from one another.
Plans for the program include highly regarded, provocative experts, learning labs and a few surprises to commemorate the 35 years.
We expect a large attendance and urge you to register as soon as possible. Visit these event content pages regularly; we will update them as new details are confirmed. In the meantime, if you have any questions, contact us at communications@mcnc.org.
Warm Regards,
The NCREN Community Day 2019 Planning Committee