10.12.2023
MCNC taps Colliers for environmental impact contract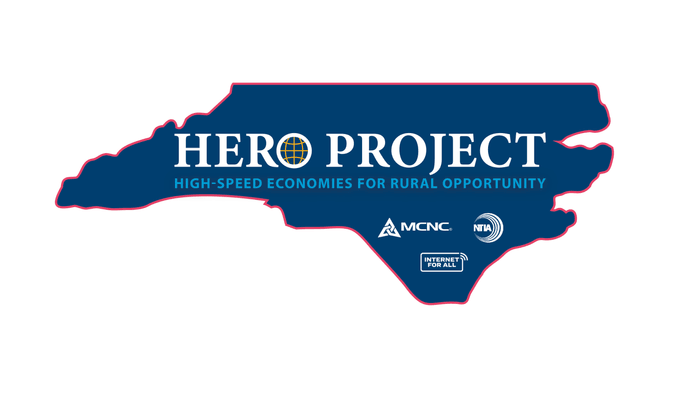 Technology non-profit selects one of the country's top firms for first phase of the HERO Project to expand broadband in central and southeastern N.C.
RESEARCH TRIANGLE PARK, N.C. (Oct. 12, 2023) – MCNC today announced that Colliers Engineering & Design, a national multi-discipline engineering design firm with offices in Raleigh, Charlotte and Wilmington, has been selected to lead the environmental impact and engineering assessment for the technology non-profit's High-speed Economies for Rural Opportunity (HERO) Project funded through the Enabling Middle Mile Broadband Infrastructure Program administered through the federal "Internet for All" initiative.
In June, MCNC received $11.2 million from the U.S. Department of Commerce's National Telecommunications and Information Administration (NTIA) for the HERO Project to directly support improvements to broadband access and affordability in central and southeastern North Carolina. The total HERO Project is estimated at approximately $19 million.
This is the first vendor selected for the project through a competitive bid process. Financial terms are not disclosed. An official copy of the Request for Proposal (RFP) is available here. This work provides outside plant engineering and environmental assessment relating to the construction of middle-mile fiber infrastructure and direct fiber connections to community colleges, libraries, schools, health and safety facilities, and other community anchor institutions via two strategic routes, which include Albemarle to Winston-Salem (74 miles), and between Sanford via Fayetteville to Jacksonville (135 miles).
"Colliers' experience and demonstrated ability to propose a design solution that minimizes environmental impact as well as their deep understanding of the industry positioned them as a top choice to lead this important aspect of the HERO Project," said MCNC Vice President and Chief Operating Officer Tommy Jacobson. "It's not just what they do, but how they do it that will allow this project to progress on time and on budget."
Colliers specializes in providing a comprehensive suite of services including civil/site, transportation, geospatial/survey, infrastructure, governmental, geotechnical/environmental, telecommunications and utilities. They are environmental experts and Licensed Site Remediation Professionals (LSRPs) providing effective site redevelopment and remediation solutions to a variety of private, commercial and governmental clients.
"This type of investment is an integral part of this project to ensure that it is built in a sustainable and environmentally-friendly manner," said Craig Zeidman, Colliers Division Director of Telecom & Utility Services. "We look forward to working with MCNC to make this project a reality for the citizens of North Carolina."
The Internet for All initiative will build new Internet infrastructure, teach digital skills, and provide necessary technology to ensure everyone in America – including communities of color, rural communities, and older Americans – have the access and skills they need to fully participate in today's society. MCNC applied for Internet for All funding in September 2022 to extend its network, the North Carolina Research and Education Network (NCREN). The 11 total counties to benefit from this project currently have more than 16,000 unserved and 12,000 underserved housing units, including many substantially unserved local communities. In total, the HERO Project would impact more than 350,000 housing units and 696 community anchor institutions, bringing new opportunities to these rural and economically-challenged areas. 
As MCNC's HERO Project gets underway and progresses, this webpage will be updated with photos, videos, and more from the people making the project possible. Additionally, RFPs released for the project also will be added to the page. To register for notifications when a new RFP is released, click here.
### 
Editorial Contacts
Jim Nester, MCNC Senior Director of Client Engagement & Marketing: (919) 248.1927 or jnester@mcnc.org
Noah Garrett, NGC Communications, on behalf of MCNC: (252) 423.1277 or press@mcnc.org