02.21.2020
Robyn Render Endeavor Award
By MCNC Admin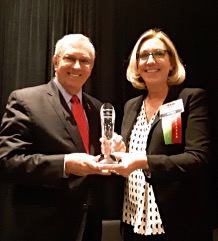 As the MCNC team planned Community Day in 2004, celebrating and reflecting on the evolution, direction, and success of MCNC's backbone network, NCREN, we realized the contributions of members of our community were key. The Endeavor Award was created to celebrate individuals and their distinguished service and commitment to MCNC. 
The recognition honors a devoted North Carolina leader who understands how technology can grow educational opportunity for all citizens. It is presented to one or more individuals who continually champion leadership, engagement, and support of MCNC's overarching mission and goals for North Carolina.
In 2010, the award was renamed in honor of Robyn Render a community member who epitomized the character, support, and engagement of the community.  Ms. Render was an inaugural recipient of the Endeavor Award. Ms. Render passed in September 2010.
Robyn Render Endeavor Award Recipients
2019
Craig D. Horn, Union County
2016
Alfred Mays, Burroughs Wellcome Fund
2015
Tracy Futhey, Duke University
Lane Ridenhour, UNC Greensboro
2014
Mark Cooke, NC Information Technology Systems
2013
Mladen Vouk, NC State University
2012
Jim Gogan, University of North Carolina at Chapel Hill
2011
Tom Cox, University of North Carolina at Chapel Hill
Rob Hudson, East Carolina University
2010
Greg Dillingham, University of North Carolina Asheville
Pam McKirdy, Greensboro College
Bill Randall, North Carolina Community College System
2009
Phil Emer, Virtual Interactive Intelligence Systems, LLC
John Streck,  University of North Carolina at Chapel Hill
2008
Jay Dominick, University of North Carolina at Charlotte
Henry Schaffer, NC State University
2007
Robert R. "Bob" Blackmun, North Carolina Community College System
Wanda McIver, North Carolina Central University
2006
Holt Anderson, North Carolina Healthcare information & Communications Alliance
Samuel F. "Sam" Averitt, NC State University
Charles M. "Mick" Kreszock, Appalachian State University
Hope Williams, North Carolina Independent Colleges and Universities
2005
Molly Corbett Broad, University of North Carolina System Office
2004
Alan Blatecky, Renaissance Computing Institute
John Cavanaugh, Cisco
Richard B. Fair, Duke University
Former North Carolina Gov. James B. Hunt, Jr.
Jane Smith Patterson, e-NC
Robyn R. Render, University of North Carolina System Office